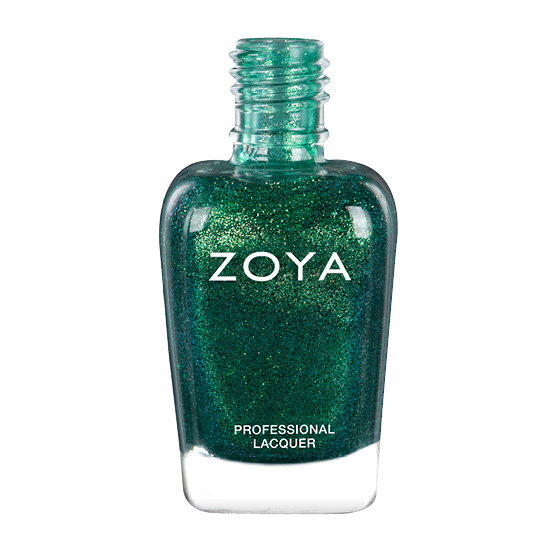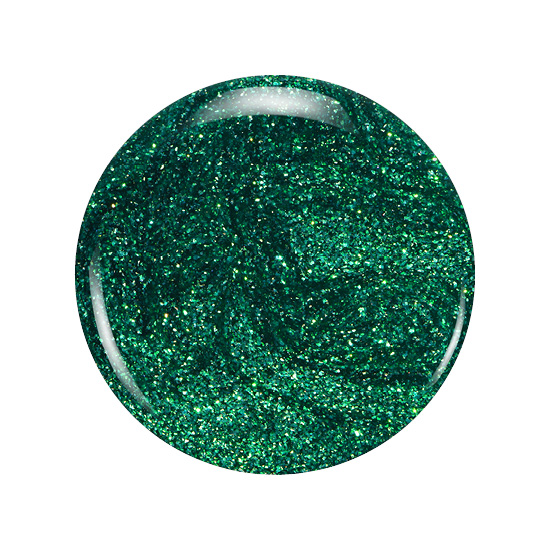 Description
Ivanka by Zoya can be best described as a sparkling emerald green metallic. This luxurious mermaid green has a darker, forest green base with a hint of emerald and gold glitter!
Nail Polish
Color Family:
Green
Finish:
Metallic
Coverage:
2 - Coat Coverage
Tone:
Cool
Instructions
For Best Results
Step 1: Clean the nail plate with Remove Plus ( Remove ) nail polish remover and nail plate cleaner
Step 2: Choose and apply the right base coat: Zoya Anchor for regular healthy nails or Zoya GetEven for nails with ridges
Step 3: Apply 2 coats of your favorite Zoya Nail Polish Color
Step 4: Apply a coat of Zoya Armor Top Coat
Step 5: Drop one drop of Zoya Fast Drops to the base of your nail bed
Following these 5 steps guarantees up to 14 days of wear on natural nails.
Shade Spotlight
Shade Spotlight Join our community - Tag your photos #EverydayZoya for a chance to be featured here!
View the Gallery
Ratings & Reviews
14

Review

s

Please sign in to write a Review



My Favorite!
2014-04-22
This is the first nail polish I ever got from Zoya and it is absolutely my favorite! Very shimmery, perfect shade of green with gold shimmer...absolutely perfect! I`d recommend this one to anyone!
lssj1223
Location-Florida
Consumer Review
Zoya Nail Polish | IvankaSparkly
2012-12-27
Beautiful color, sparkly, shimmering, dances in the sunlight! Don`t wonder, buy it. Simply gorgeous. Love it!!
Zoya Nail Polish | Ivanka-Super Cool
2012-08-23
Holy monkey this one is a winner. Indoors or outdoors, it shines like crazy and has an equal amount of sophistication as it does fun. The glitter creates a mirror-like sheen from a distance, but shows the sparkles up close. I found it easy to dress up or down and I get plenty of double takes/comments. To top it off, it lasts a long time. Only one chip after two days building bicycles for 6 hrs! (clean nail 3 coats polish 2 coats clear)
Ash
Location-Texas
Consumer Review
Zoya Nail Polish | IvankaUnpleasant Surprise
2012-08-12
I looove the color and the durability is nothing to scoff at once you give it a clear top coat, but after prolonged wear (1 week) I removed the polish to find my nails had been tinted a very unsightly shade of sea sick blue-green. I am forced to give my nails a break from nail polish completely and after three days, my nails still retain this odd bluish hue. I suppose I will have to buy a base coat to combat this but i`ve never needed to with Opi... lesson learned? I`ll just have to buy something for this particular polish...
Jordan83
Location-Florida
Consumer Review
Zoya Nail Polish | IvankaIvanka is SUPER HOTT!
2012-06-18
This is a beautiful shade of green! The best green I own. It is very shiny and has amazing staying power. I get compliments everytime I wear it. This is one color that I will never run out of!
quesolover
Location-Philadelphia, PA
Consumer Review
Zoya Nail Polish | IvankaBest green polish ever.
2012-03-29
Yup the color is that good. It is bright without being obnoxious, it is glittery without being juvenile, it has a slightly young vibe but without looking childish. I would call it grown up green that your teen will `borrow`. It has glitter (micro-glitter) and a lot of it. The glitter applies unbelievably even and smooth. Removes quite nice as well. The color is a medium grass green. The micro-glitters have a slight hint towards the same grass green, olive, teal, and gold. Not enough to change the color of green, just a hint on certain angles. It has a metallic, very metallic, finish. I would even say close to a foil finish. All that in one polish. Plus it does not have loads of bad ingredients. Plus the glitter holds it onto the nail bed quite nicely, even if you have a smooth nail bed. I get a week on toes. I take it off to switch but I bet it would last two weeks on toes. I get about a day with my fingers, which is excellent for me.
bigfat_baby
Location-hnl
Consumer Review
Zoya Nail Polish | IvankaSparkly green!
2011-09-20
Very Emerald City. She`s deeper than Apple (and minus the gold flecks). What can I say that everyone hasn`t already said.
jneuman
Location-Florida
Consumer Review
Zoya Nail Polish | IvankaFantastic!
2011-08-24
This is easily one of my favorite nail polishes in my collection ever! The glitter in this polish goes on smooth and easy, no ridges or bumps. I was expecting to need a color under this, but the glitter forms a truly complete color coverage. Lasts for days, even without a top coat (forgot to put one on until 3 days in). No chips.
Jenna
Location-Florida
Consumer Review
Zoya Nail Polish | IvankaMake a statement!
2011-03-23
Ivanka is sassy, lovely, and a standout! Beautiful for St. Patty`s Day or any day that you are really wanting to show off your green. It does take a bit to build it up to the color on the bottle (2 thick or 3 thin coats) but it layers quite nicely over any other green you might want to spruce up. I had no issue with removal (used a base coat) and did not stain or damage my nails or cuticles. LOVE this color! Kudos Zoya!
angelicvampyre
Consumer Review
Zoya Nail Polish | Ivanka?
2011-03-09
I am in love with Ivanka! It evokes mermaids, shamrocks and Las Vegas. I love to look at my nails when they`re painted with this color. Easy formula to work with! It`s a gorgeous, shimmery green glitter!
Vanessa
Location-Boca Raton, FL
Consumer Review
Zoya Nail Polish | IvankaIrish Green with Glitter!
2011-01-31
I`m originally from Ireland and I love green. I had to have this one. The consistency is wonderful - 2 coats and you`re done. I put this on my toes, and it is the perfect color for a pedi! Absolute Emerald Isle Green, with some glitter - a must have for St. Patrick`s Day!
Furbert
Location-USA
Consumer Review
Zoya Nail Polish | IvankaMermaid`s Green
2010-07-01
This really is the ultimate green! Sparkly, eye-catching & really pretty. You do need three coats.
blue&greenjunkie
Location-Morris Plains- NJ
Salon Review
Zoya Nail Polish | IvankaA Green Above All!
2010-05-19
Ivanka has the same incredible finish like Charla (see my review)which creates a magnificent finish when cobined with the this delicious green. If you love green nail polish, I gurantee you you have never seen or worn anything like Ivanks.
Application was good like the rest of my Zoya shades. Our spa (cant mention) better get on the ball (hint hint Terry)and get more Zoya because almost evry client for the past 2 weeks has been asking me for Zoya shades that they read about.
Styrch
Location-Springboro, OH
Consumer Review
Zoya Nail Polish | IvankaGorgeous Near-foil Green
2010-05-14
If you're a Green polish lover, Ivanka is a must have. If you love foils - she's not quite there, but she's so close you'll never forgive yourself if you don't get her. Gorgeous and eye catching, Ivanka will make your tips look so pretty! And I don't usually like Green polishes...
Add a Review
Review Guidelines
We want to publish your review.

Please avoid inappropriate language, personal contact information, other brands, and external links.