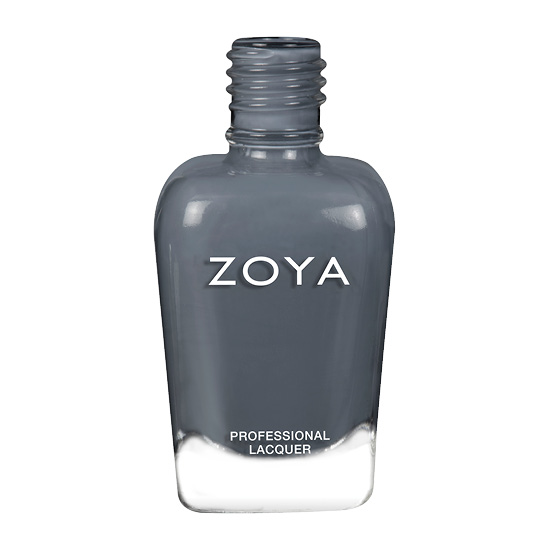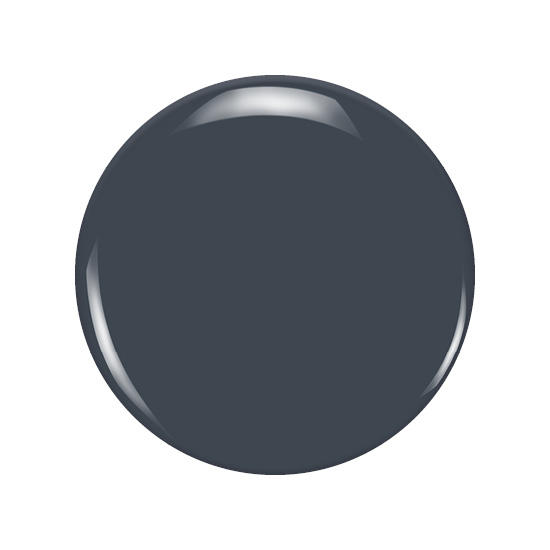 Description
Kelly by Zoya can be best described as a rich gray shade with cool undertones. An easy to wear alternative to black and a perfect NEW neutral.
Nail Polish
Color Family:
Gray
Finish:
Cream
Coverage:
2 - Coat Coverage
Tone:
Cool
Instructions
For Best Results
Step 1: Clean the nail plate with Remove Plus ( Remove ) nail polish remover and nail plate cleaner
Step 2: Choose and apply the right base coat: Zoya Anchor for regular healthy nails or Zoya GetEven for nails with ridges
Step 3: Apply 2 coats of your favorite Zoya Nail Polish Color
Step 4: Apply a coat of Zoya Armor Top Coat
Step 5: Drop one drop of Zoya Fast Drops to the base of your nail bed
Following these 5 steps guarantees up to 14 days of wear on natural nails.
Shade Spotlight
Shade Spotlight Join our community - Tag your photos #EverydayZoya for a chance to be featured here!
View the Gallery
Ratings & Reviews
21

Review

s

Please sign in to write a Review



kbaugh
-Pennsylvania
Consumer Review
-Pretty but not what I expected
2016-10-10
This color is pretty, but should not be classified as a purple. It is definitely a grey. It has a blue undertone. It is a lovely shade, but not what I expected. I was hoping for a purple. It definitely needs two coats for coverage. Good fall/winter shade.
Bestmonica
Location-New Jersey
Consumer Review
Zoya Nail Polish | KellyToo similar to Petra
2012-09-04
A modern color, but I have to agree with the Petra reviews. The two look different in the bottle but way too similar on the nail. Kelly is more,blue while Petra is more purple (and better for a light, warm skin tone). You can barely tell the difference side by side on the nail. For me (light, warm skin tone and dark hair/eyes), Petra is better. Don`t buy both.
Lily1o1
Location-St. Louis, MO
Consumer Review
Zoya Nail Polish | KellyAmazing!!!!!!!!!!!
2012-06-23
I`m a teenager so I don`t tend to buy really high end or good quality make-up because I generally can`t afford it. A few years ago though, I was looking through the new Wonderful collection and absolutely fell in love with the color Kelly. So a week ago, I finally gave up longing for it and decided to buy it. It came in the mail the other day and I just finished putting it on and I have to say Zoya Kelly is the most beautiful, best quality nail polish I have ever worn or even owned for that matter. I absolutely love it! I would recommend Kelly and any other Zoya nail product to anyone! It is absolutely worth every penny! It`s amazing!!!!!
ad
Location-illinois
Consumer Review
Zoya Nail Polish | Kellymodern elegance
2012-03-19
kelly is just beautiful. as some other reviewers commented, it is noticeably darker and less violet in person. that being said, it is amazing nonetheless. the only downside is that now i need to order a more violet nail polish! ;) kelly applies beautifully and is perfectly opaque in 2 coats.
luvzoya
Location-Pittsburgh, PA
Consumer Review
Zoya Nail Polish | Kellymy favorite go-to color
2012-03-14
This is the best neutral "go with everything" shade. I get compliments daily on it. Very easy to apply due to the cream finish. Almost identical to Petra....wish I didn`t own both!
A
Location-CA
Consumer Review
Zoya Nail Polish | KellyYes, Kelly deserves its reputation
2011-08-05
I think I have found the perfect medium-dark grey. Kelly is gorgeous and classic and modern at the same time. Love!
Jadedraven
Location-NY
Consumer Review
Zoya Nail Polish | KellyI LOVE this color
2011-07-08
I just can`t get enough, I favor Kelly over all the sparkles and shimmers. I`m on my 2nd bottle if that tells you how much I love it. Its the perfect sort of gothy purple/grey and it is so pretty to look at I find myself staring at my nails. I`ve never seen another color quite like it.
Jen H.
Location-Scranton, PA
Consumer Review
Zoya Nail Polish | KellyLots of compliments on Kelly
2011-05-11
Whenever I change my polish, I always want to go with Kelly! It dries slightly darker and more grey than color my computer monitor shows in the online photo. I tend to favor neutrals, and although this is dark, it`s very wearable. I get compliments all the time on this color.
the.greenfaerie
Location-Huntley, IL
Consumer Review
Zoya Nail Polish | KellyIt IS a new neutral
2011-05-06
While this looks quite grey to me in the bottle, the blue undertones came through so much on my nails that I would almost start calling this a pale navy. As far as blue shades go, if you are a lover of blue polishes, I`d say this is as neutral a blue as you can get.
Jackie
Location-New Orleans, Louisiana
Consumer Review
Zoya Nail Polish | KellyMore Than Gray
2011-04-10
Kelly is a lovely, dark shade that goes beyond "gray." I`ve tried other dark grays that lack the complexity of Kelly and are also less flattering. Kelly is a lovely, 80% cool gray that applies smoothly and looks gorgeous in just two coats. It`s dark without being juvenile or Goth and it`s universally flattering. Kelly is now one of my go-to colors.
Jenna
Location-Florida
Consumer Review
Zoya Nail Polish | KellyloveLOVElove!
2011-03-23
Kelly is so beautiful as both a pedi and mani color. I have used it for nail stamping and water marbling - both times turned out great! :) The color inside without direct light can look black, but when you are outside or in a decently lit room you can definitely tell the base of the grey. So rich, creamy, and simply to apply. Easy clean up and no staining on my nails either. Thanks Zoya for a favorite!
kellbell
Location-Baton Rouge
Consumer Review
Zoya Nail Polish | KellyKelly
2011-03-14
Not only my name but on of the best grey/purple creams i have ever has in my nail polish colletion
2 coats and you good to go
TinaT
Location-California-USA
Consumer Review
Zoya Nail Polish | KellyBEST grey polish
2011-03-05
This color is BEAUTIFUL. There is nothing like it out there. It`s perfect after two coats. This is definitely an alternative to wearing black polish. It`s such a pretty color that I can see myself wearing year-long. I can`t imagine myself ever getting sick of this color ever.
MrsBeautyBug
Location-Tolleson, AZ
Consumer Review
Zoya Nail Polish | KellyKelly
2011-01-31
Love love love this color!!! I haven`t found anything like it and it is perfect!! Would like to see a green in this flat color!!
duringda
Location-USA
Consumer Review
Zoya Nail Polish | KellyMY FAVE COLOR!
2011-01-30
This color is absolutely gorgeous!!! It is by far my fave color out of all the nail polish I have (about 50). This is a must have :-D
KB
Location-NE Ohio
Consumer Review
Zoya Nail Polish | KellyLOVE!
2011-01-09
Kelly is a great neutral and is one of my new favorite colors! Thanks Zoya!
Nonie
Location-Orange County
Consumer Review
Zoya Nail Polish | KellyBeautiful Blue-Grey color
2010-12-08
This nail polish surprised me because I didn`t expect it to cover my nail as nicely as it did. It was also slightly more blue than I expected which made the color prettier in person than on the website I thought.
Aimee
Location-NW Ohio
Consumer Review
Zoya Nail Polish | KellyLove it so much, I bought 2 bottles
2010-12-07
The instant I heard about this polish, I was sold. It is slightly darker than I expected but it is lovely. The deep grey has an violet undertone that sets this color above the rest. The application is a dream and is a perfect cream.
Zoya Nail Polish | KellyLove it!!
2010-11-01
Love this shade. Perfect gray color for fall!! 2 coats is plenty to get the true color.
Gabitag
Location-Chicago
Consumer Review
Zoya Nail Polish | KellySexy classy cool
2010-10-05
I have been looking for this shade for at least a year and finally found it. It is a dark grey, very urban. I can barely see the blue-violet so if you are looking for a pure grey try this out. Great choice if you like dark shades and want to try something other than black or eggplant. I have nothing else like it.
exheight
Location-Cleveland, ohio
Consumer Review
Zoya Nail Polish | Kellyso stinkin sexy!
2010-09-11
I could not wait for this polish to arrive in the mail and it did not disappoint. it`s a beautiful cool mid-dark toned gray. 2 coats did the trick. I don`t have anything like it, and haven`t seen anything like it from anyone else. love it!
Add a Review
Review Guidelines
We want to publish your review.

Please avoid inappropriate language, personal contact information, other brands, and external links.