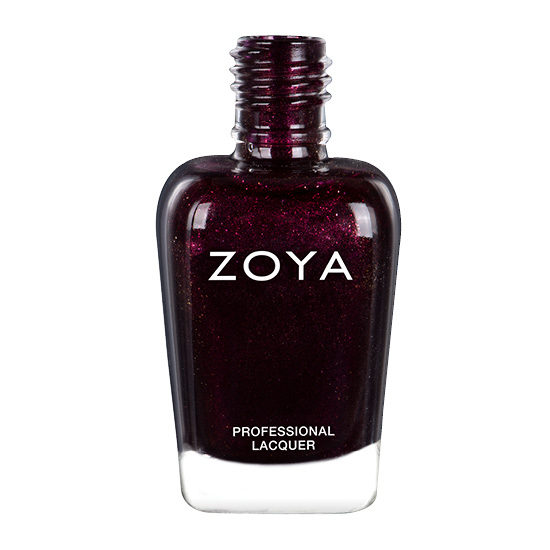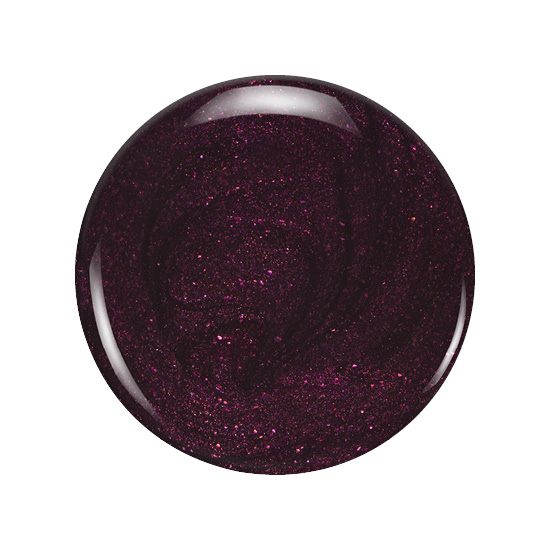 Description
Jem by Zoya can be best described as a dark, red-toned purple with subtle gold and fuschia flecks. A bold, vampy shade that has just the right amount of sparkle!
Nail Polish
Color Family:
Purple
Finish:
Metallic
Coverage:
2 - Coat Coverage
Tone:
Cool
Instructions
For Best Results
Step 1: Clean the nail plate with Remove Plus ( Remove ) nail polish remover and nail plate cleaner
Step 2: Choose and apply the right base coat: Zoya Anchor for regular healthy nails or Zoya GetEven for nails with ridges
Step 3: Apply 2 coats of your favorite Zoya Nail Polish Color
Step 4: Apply a coat of Zoya Armor Top Coat
Step 5: Drop one drop of Zoya Fast Drops to the base of your nail bed
Following these 5 steps guarantees up to 14 days of wear on natural nails.
Shade Spotlight
Shade Spotlight Join our community - Tag your photos #EverydayZoya for a chance to be featured here!
View the Gallery
Ratings & Reviews
12

Review

s

Please sign in to write a Review



Kducks
-Louisiana
Consumer Review
-Gorgeous
2016-04-10
I love this color! Jem is rich wine color wth flecks of red sparkles. I`m very fair skinned, and it looks more purplish red to me against my skin. It`s just stunning. So far every color I`ve tried of Zoya has lasted from 10-14 days. My manicurist is even impressed!
LWeb
Location-South Jersey
Consumer Review
Zoya Nail Polish | JemLove it
2012-12-16
I love this. It goes on beautifully, you can even get away with one coat, but full color in two and just fantastic. It even dries faster than other polishes! It sparkles - but I don`t see any gold, but the sparkle is undeniable. So purple, so sparkly in a sophisticated way, super gorgeous!! love it!
Mimi
Location-Virginia Beach, VA
Consumer Review
Zoya Nail Polish | JemJem is a beauty!
2012-12-11
Jem is an amazing polish...completely opaque in one coat for me. Stunning color for the fall and winter!!
Tootie
Location-IL
Consumer Review
Zoya Nail Polish | JemNot for me
2012-07-07
I did not care for this color much. I might have liked it better with more subtle sparkle. The color was not flattering on me
Jamie
Location-SC
Consumer Review
Zoya Nail Polish | JemLove!!!
2012-02-23
Jem is beautiful!
Kat
Location-Indianapolis, IN
Consumer Review
Zoya Nail Polish | JemGorgeous!
2012-01-06
More purple than the colors looks on-screen... and most definitely prettier! It sparkles so nicely, I can stop looking at my nails. Love!
trollop
Location-silicon valley, ca
Consumer Review
Zoya Nail Polish | Jemchipped immediately
2012-01-05
I was shocked that this polish chipped within two hours. I wasn`t doing anything with my hands that would have explained it. And by the following day all 10 nails were badly chipped. It also was hard to apply because it was thick and goopy (brand new bottle). Very disappointed. Color was ok.
Sandy
Location-Buffalo, NY
Consumer Review
Zoya Nail Polish | JemJem & Valerie
2011-12-16
I love Jem; just be aware that she`s very ,very close to Valerie. I ordered both -- but really don`t need two polishes so close in color!
amwash23
Location-Houston, TX
Consumer Review
Zoya Nail Polish | JemFirst Zoya purchase
2011-10-17
This was the first Zoya polish I ever purchased and I immediately fell in love with both the color and the brand! It is soooo gorgeous in person, even better than online. I love it!!
ingerasata
Location-Gulf coast
Consumer Review
Zoya Nail Polish | Jemone of my top 3 favorites
2011-10-04
I fell in love with Jem as soon as I saw it on my nails a few weeks ago. The color is simply gorgeous, the picture on the website simply does not do it justice. I love, love, love this color!
jenclink
Location-Yakima, WA
Consumer Review
Zoya Nail Polish | JemDAZZLING!
2011-08-29
I absolutely LOVE Jem! She`s absolutely stunning in the sunlight, a gorgeous, super sparkly purple, and in low lighting she comes across as kind of a reddish-purple. She was shiny and opaque enough that I didn`t need a top coat (polish lasts forever on my toes) and I only needed one coat on my toes, and on my nails one coat definitely could have sufficed, but I added a second one anyway, and the top coat makes it POP! It went on smoothly and amazingly and this will definitely be my go to polish. Thank you Zoya! I`m in love!
polishlove
Consumer Review
Zoya Nail Polish | JemJem!
2011-08-22
This is a very pretty color. I give it four stars because in the bottle there were beautiful gold swirls but when applied, I did not see any gold at all. It just all disappeared.
Add a Review
Review Guidelines
We want to publish your review.

Please avoid inappropriate language, personal contact information, other brands, and external links.