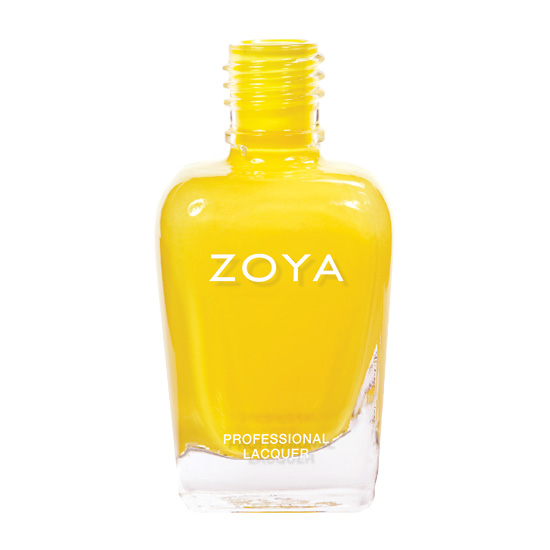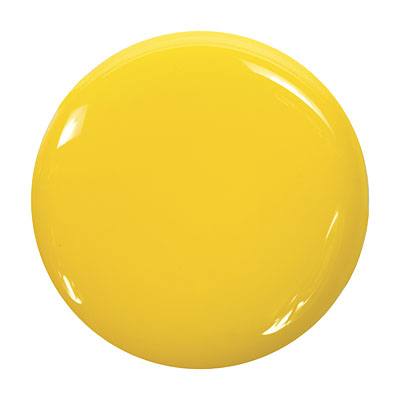 Description
Pippa by Zoya can be best described as an ultra-bright, sunny and cheerful medium lemon yellow creme (works well with Neon hues). A happy shade that will surely light up a room.
Nail Polish
Color Family:
Yellow
Finish:
Cream
Coverage:
2 - Coat Coverage
Tone:
Cool
Instructions
For Best Results
Step 1: Clean the nail plate with Remove Plus ( Remove ) nail polish remover and nail plate cleaner
Step 2: Choose and apply the right base coat: Zoya Anchor for regular healthy nails or Zoya GetEven for nails with ridges
Step 3: Apply 2 coats of your favorite Zoya Nail Polish Color
Step 4: Apply a coat of Zoya Armor Top Coat
Step 5: Drop one drop of Zoya Fast Drops to the base of your nail bed
Following these 5 steps guarantees up to 14 days of wear on natural nails.
Shade Spotlight
Shade Spotlight Join our community - Tag your photos #EverydayZoya for a chance to be featured here!
View the Gallery
Ratings & Reviews
14

Review

s

Please sign in to write a Review



Zoya Nail Polish | PippaNot what I expected
2012-09-14
Definitely not what I expected. It was streaky in one coat (never encountered that with other colors I have from Zoya) and took three coats to have complete coverage - two was ok, but I still saw streaks.
The color I was expecting a more vibrant yellow, not a daffodil creamy yellow...which was a bit flat for me.
Zoya Nail Polish | PippaGreat color but a little sheer
2012-07-16
Needs three coats to get past the streaky stage, but more opaque than most yellow polishes I`ve found.
PNWgirl
Location-Seattle
Consumer Review
Zoya Nail Polish | Pippanot what i was expecting
2012-05-20
I wish I would have paid more attention to the previous reviews, it definitely seemed so much brighter online and in the mailers. When I got it I was shocked at how pastel it was. Total disappointment because I was really looking forward to finally finding a super bright yellow for summer.
Zoya Nail Polish | PippaPastel-ly Pippa packs a punch
2012-05-16
This is a truly opaque polish that stands firmly in a pastel yellow world while being so bright that it borders on neon without turning gold. Though the polish doesn?t streak, Pippa is not the type that one can slap on the nails and go. My first time doing that caused it to bubble. However, when I allowed the polish some time to semi-dry between coats, this polish worked quite well.
Love2Polish
Location-Houston
Consumer Review
Zoya Nail Polish | PippaNice yellow
2012-05-03
I like the color. It is a very nice not too bright canery yellow. It is also not too pale. It`s the perfect yellow. My only complain is that it is thicker than other Zoya polish. Thick but not intense. I have to go over with 3 coats to make it look as opaque as the bottle.
Erin
Location-Arab, AL
Consumer Review
Zoya Nail Polish | PippaCheerful but...
2012-01-23
Pippa is NOT at all the color that it looks on the website. It`s a bright, butter yellow. It`s still a pretty color, but it`s not quite what I was expecting. Additionally, it`s pretty streaky. I`m at 3 medium coats (meaning not super thin or thick), and I`ve still got a bit of patchiness and unevenness. Most yellows are terrible to work with, though, so I guess I shouldn`t be surprised that this one is temperamental too.
shannon.clayton
Location-Atlanta, GA
Consumer Review
Zoya Nail Polish | PippaMessy!
2011-11-11
I love the color, but for whatever reason Zoya screwed up their formula with this color. It`s bubbly, thick and messy as all get out.
Casper
Location-Madison, WI
Consumer Review
Zoya Nail Polish | PippaConfusing
2011-08-17
On the website this looks extremely bright bordering on neon. The bottle looks almost pastel. In reality it`s somewhere in between. It`s not neon, but it is much brighter than it looks in the bottle. Weird consistency, though.
HylaDragon
Location-NY
Consumer Review
Zoya Nail Polish | PippaMac and Cheese
2011-08-12
I was disappointed with this color. It is definitely muted compared to the online picture and description. I wont call this lemon yellow at all but more of a creamy yellow mac and cheese color. the nail polish applies heavy and creamy as well and doesn't seem like it will cover well on the first coat. The second coat however does the trick, but I was really expecting a bright lemon neon sunshine color :(
Zoya Nail Polish | PippaA true yellow
2011-06-13
I love th color of this polish; it`s a true, bright, sunny yellow that really pops out. However it goes on quite sheer that I needed 3 coats for full coverage.
M&M Lover
Location-Miami, FL
Salon Review
Zoya Nail Polish | PippaMellow in Yellow
2011-05-20
Our clients can`t get enough Pippa for their pedicures. It is probably in the top 3 pedicure color choices that our clients make. Zoya nail polish is a big hit hit in Miami. Please keep the great nail polish shades coming. Pippa applies smooth and even and wears extremely well.
Mia
Location-Florida
Consumer Review
Zoya Nail Polish | PippaI LOVE this!
2011-01-06
I ordered this. It just looks so lovely! The most true yellow color I`ve seen! Very cute!
StacyJ
Location-Kalamazoo, MI
Consumer Review
Zoya Nail Polish | PippaNot what I was expecting
2010-07-24
This is a nice color, don`t get me wrong but I was expecting it to be more of a vibrant, bright yellow. It`s what I would call bright, butter yellow. The color is more creamy than it looks on my monitor. It covers well in 3 coats.
Zoya Nail Polish | PippaPippa
2010-05-14
I wore this on New Years Eve ( I know not your typical holiday color) But it's fun and it was a huge hit!
Add a Review
Review Guidelines
We want to publish your review.

Please avoid inappropriate language, personal contact information, other brands, and external links.