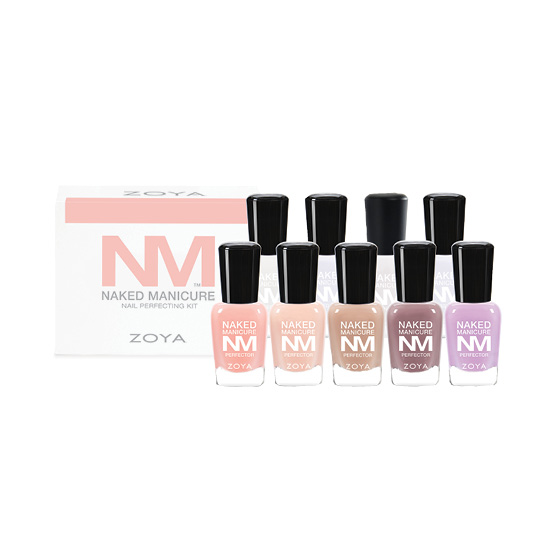 Naked Manicure Complete Mini Pro Kit
Description
The ultimate custom color blending kit for any Naked Manicure lover and perfect for travel and for gifting! This set includes 1 - 0.25oz bottle of the following products:
1 - 0.25oz Naked Manicure Pink Perfector
1 - 0.25oz Naked Manicure Lavender Perfector
1 - 0.25oz Naked Manicure Buff Perfector
1 - 0.25oz Naked Manicure Nude Perfector
1 - 0.25oz Naked Manicure Mauve Perfector
1 - 0.25oz Naked Manicure Tip Perfector
1 - 0.25oz Naked Manicure Base Coat
1 - 0.25oz Naked Manicure Glossy Seal Top Coat
1 - 0.25oz Naked Manicure Satin Seal Top Coat

Zoya Naked Manicure
Ratings & Reviews
3

Review

s

Please sign in to write a Review



CherryH
-Tennessee
Consumer Review
-WOW!
2016-03-16
I bought this even though I`m a stay at home mom and not a professional nail person, but I love to do my nails and it looked amazing if it did all is said. Well, it did!! I`m amazed! My husband couldn`t believe how beautiful my nails looked. It lasted at least a week before chipping which is amazing with all I need to do with my hands, washing dishes and cleaning, etc. I`ve showed my friends and I`m going to do some manicures for them. I love this polish and love that it looks much more natural than a straight up french manicure, but just as elegant and polished (sorry for the pun!). It has helped with brittleness and peeling too. BUY it!
-Beautiful natural nails
2016-03-13
I was curious about the Naked Manicure line and this kit is the perfect way to try it out. I wouldn`t have guessed that my nails needed a darker base than pink and the kit lets you experiment with all the colors, plus Zoya mini sizes are very generous. The Satin topcoat is genius, I will definitely purchase at full size. The whole process takes about ten minutes and dries very fast, gives a true "my nails but better" look.
Becky
-Massachusetts
Consumer Review
-This is AWESOME!
2016-03-12
This is really great set. I`m someone who likes to always have their nails painted, but has damaged nails. This is great for when they are shorter than usual and I don`t want to paint them a color but also don`t want to go bare. The insert included tells you what hues of Perfector to mix to get your perfect shade, I really appreciated that. LOVE the Satin Seal topcoat, truly does look like a natural-nail finish. The formulas are nice, which isn`t surprising (Zoya rocks!) but the white tip perfector I had a little difficulty with. It`s sheer, thin and seems to dry a little too quickly for me, as I was unable to get an "even" look, due to the polish semi-drying before I even had time to finish. I did, however, use the system without that white tip perfector as well, and I still really love the results. If you`re on the fence, buy it. Especially this mini kit, which is a great way to try it out!
Add a Review
Review Guidelines
We want to publish your review.

Please avoid inappropriate language, personal contact information, other brands, and external links.